JensenIT Blog
JensenIT has been serving the Illinois area since 1991, providing IT Support such as technical helpdesk support, computer support and consulting to small and medium-sized businesses.
Build Better Mobility with Advanced Strategies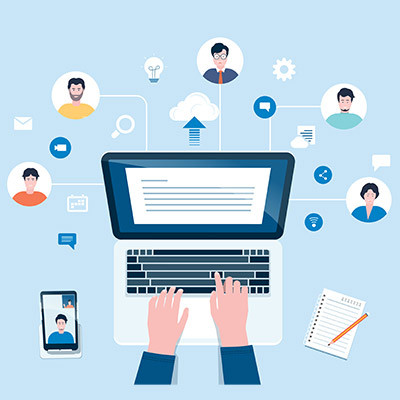 Remote work is more common than ever before, so it's no surprise that businesses are looking for new ways to ensure remote working arrangements aren't dragging down operations. Thankfully, because it's so common nowadays, your organization has a ton of options at its disposal, many of which allow for greater flexibility and mobility.
Implement the Cloud
With the cloud on your side, your business can make its assets much more accessible while out of the office. Furthermore, your employees will have more freedom in how to approach their work. It's very likely that the majority of the tools and services your company utilizes can be virtualized and stored in the cloud for ease of access. If you can think it, you can virtualize it in the cloud, from software solutions to data storage to hardware virtualization.
Provide Hardware for Your Employees (In Some Capacity)
It doesn't matter how mobile your business is if your employees don't have access to devices to access your data on. Obviously, it is a little harder to acquire the necessary hardware at the moment due to the ongoing supply chain disruptions, but if you can, you should consider providing hardware to your employees for work purposes, like laptops and smartphones. In cases where you can't, you can utilize virtual desktops and hardware to host certain parts of your hardware infrastructure in the cloud.
Consider BYOD Policies
If your business cannot supply its entire workforce with devices, don't fret—you can rely on your employees to use their own personal devices for work, provided they meet specific criteria outlined in your Bring Your Own Device policy. BYOD can empower your employees to get more work done with devices that they are comfortable with, and it can save your business plenty of device acquisition costs, too. If you can get your employees to use their own devices for work, all you need to do is make sure they are kept up-to-date and secured; this goes for any data accessed by these devices, too.
For businesses that don't want to commit fully to remote operations, there are hybrid solutions out there, too. Some employees might spend a certain amount of time in and out of the office utilizing shared workspaces to get work done. Ask us today how you can implement a hybrid work policy for your business.
Naturally, the shift to remote work has its kinks that need to be worked out, but with JensenIT on your side, we are confident you can work your way through them and make your operations more mobile than ever before. To learn more, reach out to us at (847) 803-0044.
Comments
No comments made yet. Be the first to submit a comment